Join the referral program to earn up to $200 per referral and also get a platform to showcase your blogs online with your online profile.
Dear Influencers or we love to call you content creators,
We love your work and admire your passion for social media. We have come up with the referral program, where you can earn up to $200 per referral and more rewards by just referring us to your restaurants. Melbourne marketing provides you with the latest trends and valuable information as well whenever available.
Who is this for?
This program is for all those social media content creators and bloggers who love to visit restaurants, cafes or other food places and post photos to their social media. Also to influencers who provide some advice to these places as well.
This program is best for Melbourne Marketing enthusiasts. Content creators who want to word as marketers in digital space in Melbourne.
What do you need to do?
It is simple, just register with us as an influencer and promote our services to any of your favorite places. We can provide you with your own business cards, promotional material if you request for. Otherwise, you can just give us a shout out on your social channels and post about us. On successful conversion, you will be eligible to get up to $200 per referral and bonus rewards as well.
What will you get?
You get a chance to be part of Melbourne Restaurant Marketing Company.
You will get your own online profile for your blogs. You can add your favorite places, articles and create your own kingdom. This one is great for Instagram influencers as they can showcase their work on the website for free.
Rewards and freebies.
Up to $200 per referral.
Best influencer will also get a chance to be a permanent member of our team in Melbourne.
Connect with other bloggers and influencers.
Register your interest here.
We will email or DM you details.
Let's Grow Together And Make Beautiful Content
Say hello to our influencers
meet one of the most engaging influencers in Melbourne.
Documenting my food adventures 🍔🍣🍕🍜
Stelly is a young foodie in Melbourne and she loves to try out new places and snap them. She is one of the top 20 foodies on Zomato. Visit her IG to check out her latest food adventures.
" I'm an IG Influencer who likes to eat her way around Melbourne and help spread awareness of the best food places! "
Anastasia is a digital marketing expert as a profession and an amazing foodie when it comes to going out to eat. She loves trying out new places and gives her reviews on the food. She is among top 20 foodies on Zomato.
Check out her latest reviews here or follow her on Instagram.
I'm proud to say, "I don't just consume coffee. Coffee consumes me". So much so, I've made it my mission to discover the best cafes and coffee experiences this amazing vibrant city has to offer.
Coffee is entrenched in our culture, and where do we all gather to share this daily ritual?.... it's at a café.
Join her as she explores the exciting world of Melbourne's Café Culture, and the amazing people who make it all possible.
Check out her latest review or visit her website. Share the love! Follow Tess on Instagram.
Natalie is a blogger and digital marketer based in Brighton. She loves traveling, art, design and cares about mental health. Check out her page and follow her in Instagram.
Jessica is a top vegan foodie in Melbourne. She keeps on finding restaurants that offer vegan food and also provides some reviews of the vegan retail products available in stores near you. If you are a vegan or looking for some amazing vegan meals in Melbourne, the do follow her on Instagram. To know more about Jess click below to check her page.
Joanne is an expert reviewer on Zomato. She has over 280 reviews and is among the top 20 reviewers in Melbourne. She loves to go out and enjoys reviewing food in Melbourne.
Check out her page here and follow her on Instagram.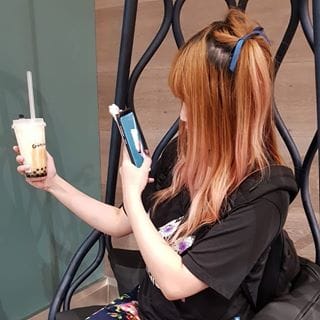 Where there is boba, I will be there 🍵 + on the search for newly opened food joints.
Check out her latest posts on Instagram.